How to Write an Impressive LinkedIn Work Experience Section: Tips and Examples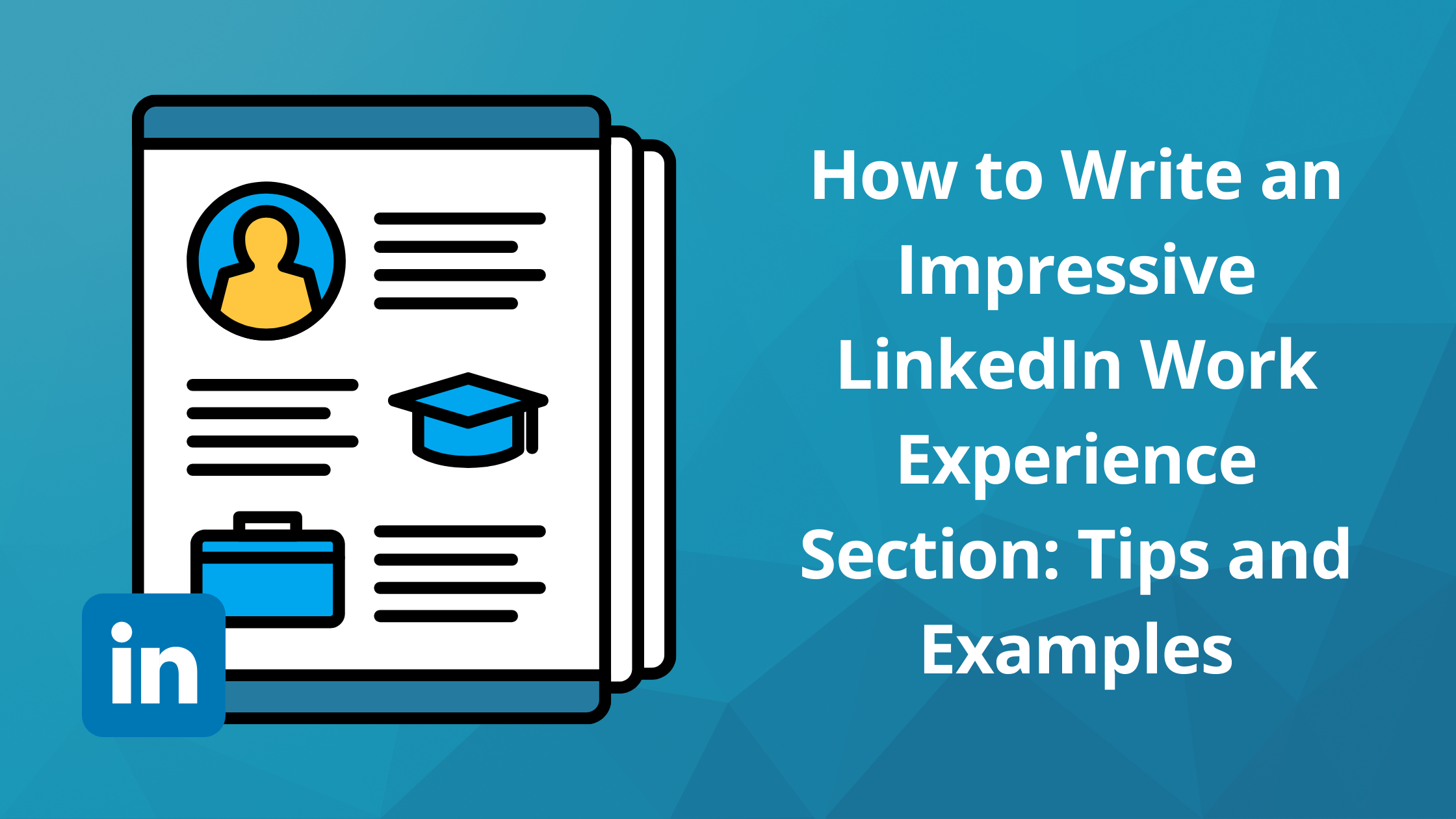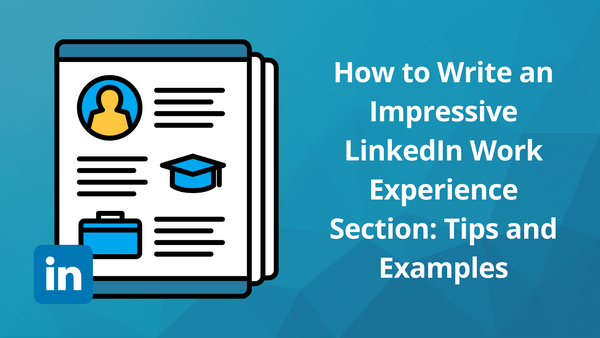 Are you looking for a new job? Or are you trying to attract new leads to your business?
If so, you need to make sure that your LinkedIn profile or Linkedin company page is up-to-date and impressive. One of the most important sections of your profile is the Work Experience section.
This is where potential employers will learn about your professional background, past jobs, and how you performed in those roles.
To find qualified candidates, hiring managers and recruiters use the LinkedIn search results regularly. Before inviting people for a job interview, many hiring experts and recruiters look at candidates' LinkedIn profiles.
In this blog post, we will show you how to write an impressive Work Experience section that will stand out from the competition.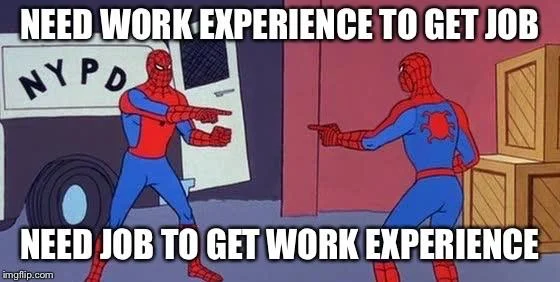 How do your LinkedIn professional experience and job description differ from your CV?
The first item on the list is how to make your LinkedIn profile distinct from your CV. Should you paste your resume's work experience section into your LinkedIn profile?
Short answer: No!
Your LinkedIn profile and resume must be different since they serve two distinct goals.
Your resume was created with a certain position in mind, but your LinkedIn profile is tailored to a broader career search.
Both documents should contain identical job titles, start and end dates, and basic information about each position. However, you must present the data in various ways.
Your LinkedIn profile should be utilized to complement your resume, showing a more in-depth look at your skills and who you are as a person.
Creating a work experience section on your LinkedIn profile
Your CV should include comprehensive job descriptions that are linked to the position you're seeking. There's no need to list all of them on your LinkedIn profile.
You don't need to include as many specifics, but you may include more situations or business cases.
Your resume should be tailored to your unique skills, experiences, and competencies, but your LinkedIn can also highlight additional and specific professional accomplishments from the recent past.
If you're a consultant who's done work that didn't fit within your day job, for example, consider putting it on your LinkedIn.
When it comes to writing a resume versus creating a LinkedIn profile, there is also a shift in perspective.
Pronouns should be avoided in your resume, but you should write in the first person with a conversational tone on your LinkedIn. This is most crucial in your LinkedIn Summary and Experience sections.
How to add new work experience to your LinkedIn profile
To add a new job to your LinkedIn profile, click the "+" symbol at the top of the Experience section.
Fill in your job title, company, location, and start and end dates. You may now select "Employment Type" from the drop-down menu on LinkedIn's "employment type."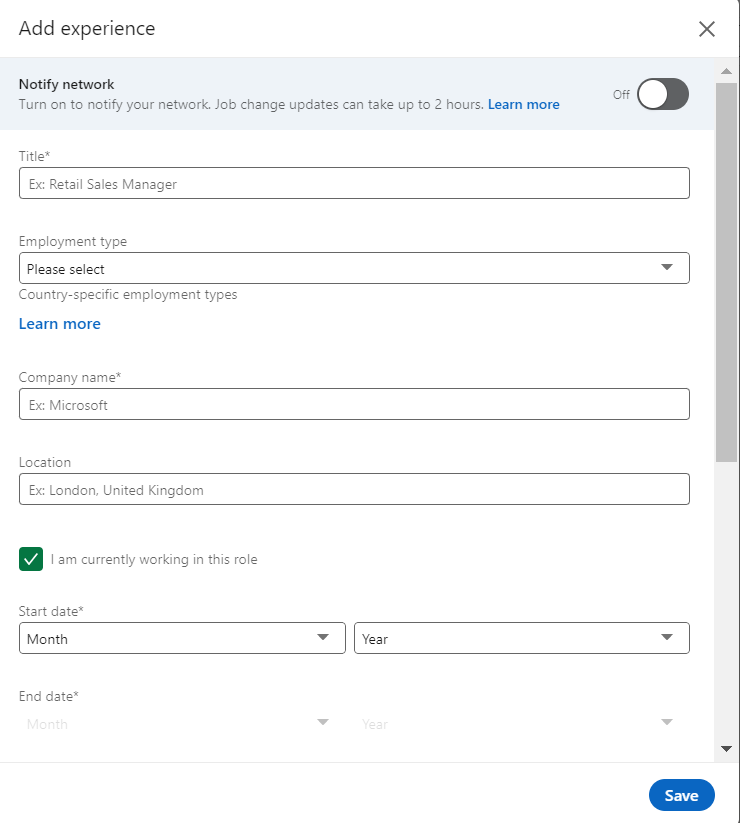 You may also list keywords that describe your qualifications in the same box. You'll want to include keywords that are relevant to your field and professional goals, such as your resume.
Unlike a resume, your LinkedIn work experience entries should be broad, less detailed, and not geared toward a certain job opening.
Begin your LinkedIn experience description with a written summary of your accomplishments particular to each position.
Bullet points are useful for a resume since they include more information in smaller chunks. For LinkedIn, paragraph form is acceptable since you won't be presenting a lot of data.
Here's an example of what it looks like after you've saved it: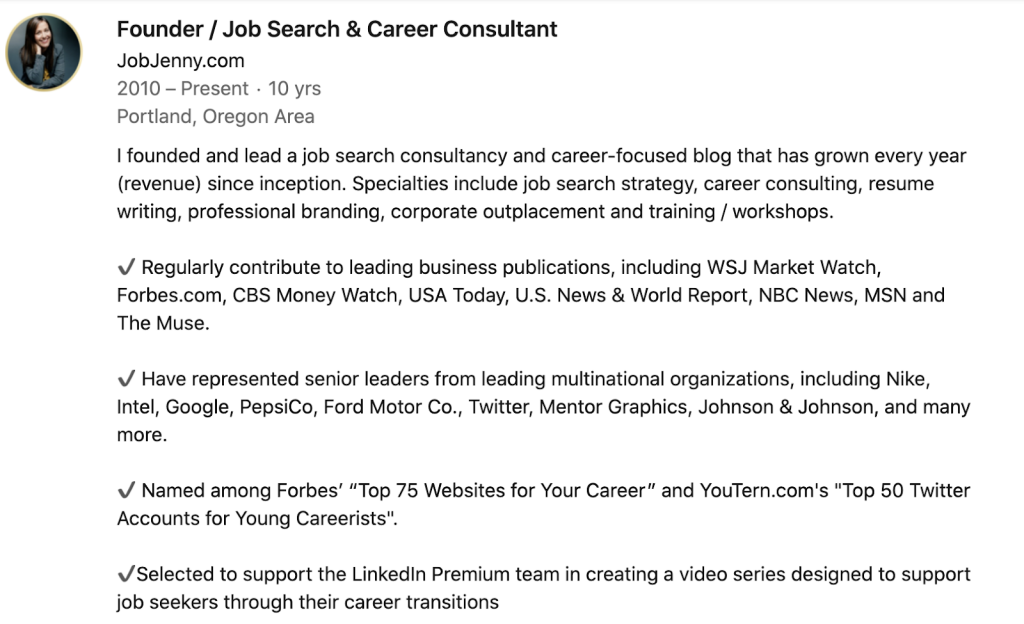 What is the difference between your resume and your Linkedin work experience?
Profile Photo
A profile photo is not required for your resume, but it's necessary for your LinkedIn profile. According to LinkedIn, people who include a picture in their profile get 21 times more views and up to 36 times more messages.
Choose a photo that fits your professional image while simultaneously making you approachable.
You may upload straight from your phone if it's high-quality and just you, not your pet or partner. If at all possible, hire a professional photographer to take a picture for you or enlist the help of someone who has a nice phone with a camera.
Variations x Static
Job search experts advise that each resume be tailored to the open position and is built with your industry in mind.
Always have more than one variation of your resume on hand, and write as many resumes as possible based on the job openings you want to apply for since the objective of your CV is to respond specifically to an advertised or vacant position and obtain an interview with the recruiter or hiring manager.
On the other hand, you have one profile on LinkedIn that must be maintained as you advance in your career, get new skills or certifications, and participate in new initiatives.
It's even worth checking on LinkedIn to make sure you haven't accidentally established duplicate accounts.
User Experience
LinkedIn is more engaging for the reader than a resume.
Your LinkedIn Profile is dynamic and ever-changing, especially if you are active on LinkedIn and post updates, publish LinkedIn articles, and like or comment on your colleague's posts. Your resume is static and only contains limited information relevant to the job at hand.
As a result, we recommend you to be active on LinkedIn since it will help you develop your reputation, keep your connections up to date on what you're working on, and brand yourself as an expert.
💡
Linkboost
is the perfect tool to demonstrate that you're an industry expert.
Click here
to see how you can easily your Linkedin outreach.
Your LinkedIn profile will also include more endorsements and recommendations, with teammates praising your talents or offering you recommendations to add to your profile.
Length of descriptions
We recommend keeping your resume to a maximum of two pages in length since it must only contain information relevant to the job you're applying for.
There are no restrictions on how long your LinkedIn profile should be, and you may include links, blogs, and PDF files in your highlighted area.
Finally, be sure your profile is full of information relevant to your LinkedIn goals and does not include a PDF version of your resume.
If you're looking for work, consistency with your CV is critical, and it's worth glancing over your LinkedIn profile to be sure there isn't any distracting information in your profile that you inadvertently included when you first created an account on the site.
Format & Focus
While your LinkedIn profile establishes you as a professional with broad abilities, your CV focuses on your talents and work experiences, how they make you an excellent candidate for a specific position, and how the organization will profit from hiring you.
In a resume, you'll need a "Professional Summary" or "Profile" at the beginning. The usual "Career Objective" has been replaced by this.
The objective statement is the most important component of the resume because it will decide whether someone continues reading. To portray your professional abilities and key personal qualities in a way that is appealing to your audience.
The LinkedIn Summary section allows you to do the same in your profile. However, you have a lot more room (up to 2,600 characters).
The general formatting options for text on your LinkedIn Profile are limited, with the use of symbols and caps being the main options. Your highlighted area may also be used to offer links to showcase an online portfolio, upload films and publish online articles.
While your LinkedIn profile and resume will contain similar information, the way you describe your work history and career shift from one position to another, as well as the amount of prior and present job experience, will differ.
The LinkedIn profile will provide a general idea of achievements, as well as a portion of storytelling for each position, while the resume should only include relevant information about the employment opportunity you're applying for and stick to important metrics and KPIs.
Tone
Take a more friendly tone on LinkedIn, but be careful to consider your industry and role type while doing so. If you think of LinkedIn as a virtual room, your LinkedIn profile is yourself! It's an active online ambassador 24 hours a day, seven days a week.
Your LinkedIn profile should tell a more complete story. It's a platform to show off your personal brand, demonstrate your expertise, show your career interests, and provide value to your professional community.
Both must consider what the reader will get out of it, but your resume will be more formal in tone and may well be one of the most formal documents you'll ever create.
The structure and word choices of your resume are important. They must respond to key selection criteria and utilize terms and language that are consistent with the words used in the job advertisement or those used by the company generally on their website content.
Because the length is more restricted on a resume page, you must be even more cautious about what you select!
A well-written resume and an effective LinkedIn profile should demonstrate the value you can bring to a company. It is critical to explain your work history, job duties, and the impact you've had in your past and current relevant positions. The amount of detail included will differ, however, because LinkedIn is public domain and your resume is focused on private and particular experiences.
Using the right keywords
Ignoring the technology employed by recruiters and hiring managers might put you at a disadvantage when it comes to connecting with them.
Resume applications may be filtered using scanning software, and LinkedIn's algorithms evaluate keyword concentration and job title to position your profile in its job search.
Your LinkedIn headline, about section, experience, and competence sections must be written in a way that aids your search.
Consider the job titles and abilities required for these positions if you're looking for employment. Make sure any skills or expertise you have are properly represented in terms of the industry jargon on your LinkedIn profile.
Choosing the right keywords is much easier in resumes since every advertised role contains plenty of keywords and phrases you can use.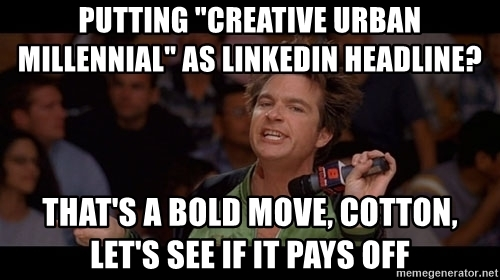 Audience
The goal of a resume for job seekers is to be invited for an interview and subsequently hired. We recommend keeping your resume up to date as an archival document whenever you move between jobs or responsibilities.
While headhunters frequently use LinkedIn to find individuals, its primary objective is to keep you up to date with what's going on in your field and connect you with people from the same industry.
A hiring manager will look up your Linkedin profile and/or perform a more detailed search on social media before doing a general online search and, perhaps, a particular search on social media after reading your CV.
How to adapt your resume to LinkedIn work experience step by step
Here's a three-step method for transforming your work experience from your CV to your LinkedIn:
Step 1: Copy the description
Copy your work experience from your resume to your LinkedIn profile. Organize it into companies or jobs.
Step 2: Formatting
Remove the bullet points. Choose your most significant accomplishments--if feasible—and remove the rest of the information. Insert the most essential information in the first four lines (before the cut-off).
Step 3: Edit and bring the First Person
Make your material conversational and engaging. It's fine to say "I did XYZ." It may take some tweaking, but using the first-person perspective is worth it!
Writing tips to Improve Your Linkedin Work Experience
Here are some writing suggestions to help you finish your profile and impress anybody who views it.
Keep it relevant
Make sure to develop this section keeping in mind the sorts of employment you're applying for. Make sure your experience backs up what you say. You'll cut down on older job descriptions while increasing the length of the most recent ones.
Unfortunately, LinkedIn does not allow you to combine three distinct job categories, but it works better with one particular role. Carefully edit to emphasize the most relevant experience and achievements that apply to the next role you're looking for.
Start strong
The first few lines are highlighted on your profile. The reader must then click the "see more" button to read the rest of this part.
Finally, compose a fantastic summary that includes two or three sentences to give the reader a good overview of your experience, major accomplishments, and relevant industry knowledge.
It's important to note that using the past tense throughout this section will convey the right message. It indicates you've completed it, which is the best way to promote it.
Give more focus to your recent accomplishments
Don't put it all on your CV in the job description. Instead, offer a few highlights to pique the interest of a recruiter or hiring manager.
Keep track of your achievements in any area where you implemented major initiatives or saved time or incurred significant cost savings.
Maybe you developed something new or enhanced productivity. These are the kinds of statements that employers and others want to hear. Write less extensive descriptions as you go backward in time.
If you have a long track record, it's not necessary to include every previous job. And descriptions should be trimmed as these older jobs are more likely to be at a lesser level than the one you're looking for now. 15 years is plenty because your present experience has prepared you for the next position.
Start with action words
Start each statement with an action verb, such as directed, created, implemented, etc. Actions are directly associated with Results. This is a fantastic formula to employ as you refine your sentences.
Remember to add the keywords.
As previously said, do your homework and research the keywords you'll need for each position. Take a look at some real job ads or check out the profiles of a few people in similar jobs to learn more about what they're looking for.
Make a note of the essential and desirable abilities required for the position, and sprinkle these terms throughout your job descriptions and about sections.
Proofread your profile
Make sure that the text is correct and grammatically correct, and double-check for any mistakes. Typos and grammatical mistakes are unattractive to recruiters, therefore be sure they're gone. Always have someone else check your work before it's published.
Update it regularly
Many people allow years to pass without updating their profiles. Don't make that mistake. Once a year, polish it up, and in a few months after taking on a new position.
Summary
Your LinkedIn work experience section should both complement and emphasize your CV. Cut it down to the most essential accomplishments, using industry-related general keywords. Keep it informal and conversational.
With a little effort, you may easily enhance the content of your CV to suit your LinkedIn profile. This will set you apart from the competition and allow you to obtain new job offers, sales leads, and business opportunities!
Next Steps: How to Build Your Authority on Linkedin
That's fantastic! We covered the significance of a well-written Linkedin Work Experience section and how to quickly enhance your profile.
The next step is to demonstrate that you're an industry expert to those who visit your Linkedin pages. Or, that you are a reference for your network of contacts.
One of the most effective ways to build authority on Linkedin is to share content and get engagement.
If you publish relevant posts with a large number of likes and comments, it can get your visitor's attention.
The best way to keep up your Linkedin automation and consistently have more engaging posts is to use a tool like Linkboost.
With Linkboost you can generate qualified engagement and increase up to 10x the usual reach of your publications on Linkedin.
Still not familiar with Linkboost?
Watch this intro video to learn your first steps!
Ready to get started? Click here and take the test!