How to Use LinkedIn Search Like a Pro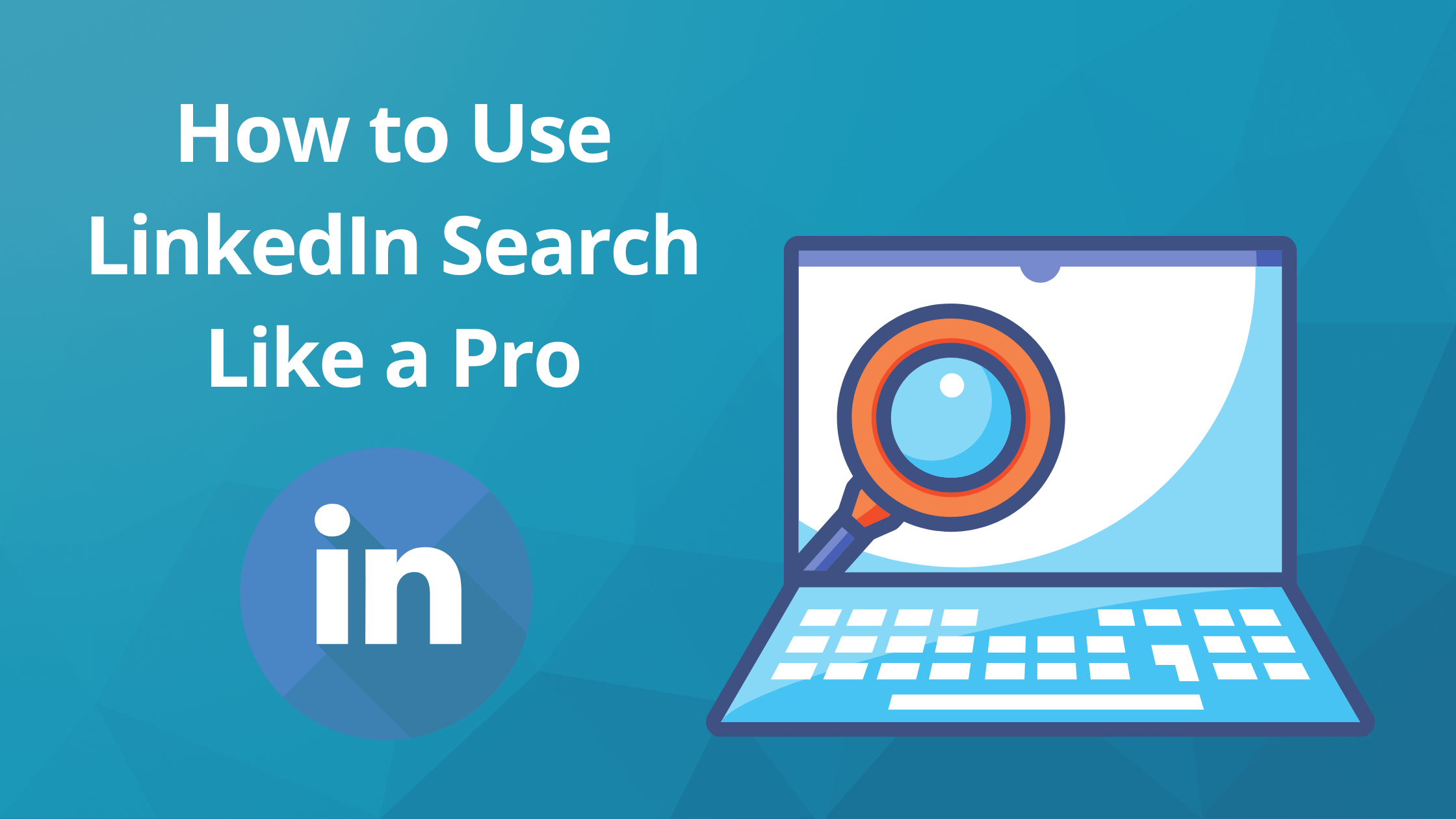 LinkedIn is a powerful tool for professionals and job seekers.
It can be used to make connections, find jobs, and learn more about your Linkedin network.
One of the most powerful features of LinkedIn is the search function. With a LinkedIn search, you can find people, companies, and other professionals in your industry using relevant keywords. You can also see the employment history and contact information on their Linkedin profile.
In this blog post, we will show you how to use LinkedIn search like a pro!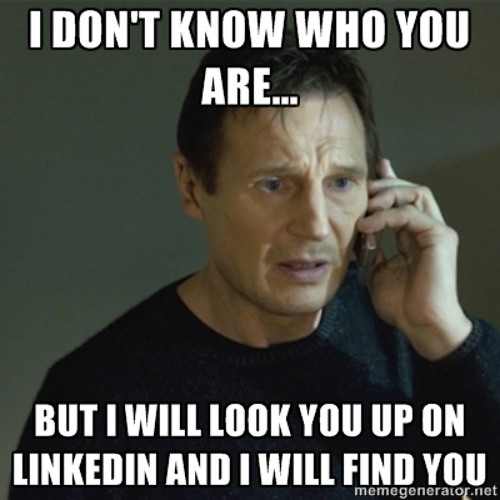 Why should you be an expert in Linkedin searches?
The habits of top LinkedIn salespeople were recently revealed in a survey. The poll compared how top LinkedIn salespeople use the site to everyone else's.
The most important reason why top sellers use LinkedIn is the LinkedIn search function and how it affects search appearances.
The survey found that 76% of the top sellers use LinkedIn to find possible contacts, 58% employ it regularly to build their connections and accounts, and 80% create highly specialized prospect lists.
To get the greatest return from LinkedIn, you must know how to search for anything or anybody on it. That's exactly what we're going to show you in this article.
What Can You Get with Your LinkedIn Search Skills
LinkedIn search isn't only for identifying prospects or a job search. You may also use LinkedIn search to:
While traveling or attending a conference, look for people to meet with.
Make connections with prospects that you have in common.
Connect with similar-minded thought leaders and peers in your field to collaborate or partner.
Find out who else might be interested in joining your charity or neighborhood meet-up group.
Find out how many people you know at a company
Find individuals with specific skills on their job title that you can hire for particular projects
How to make the most of Linkedin search results
We'll go over some of the less obvious aspects of LinkedIn search that, when mastered, can take your efforts to a new level.
To be effective with LinkedIn search, you must first have a clear picture of your target audience.
The goal is to move from hundreds of millions of Linkedin users to a small, focused group of qualified individuals.
Begin with the advanced search feature
One of the biggest benefits of using LinkedIn's platform is that the data is organized in a structured manner.
It also means that you don't have to combine everything into a broad keyword query, as you can now choose query words for specific fields to improve your search result.
For example, I may use the keyword to search for individuals who are currently working at Google.
Unfortunately, that will match everyone who has "Google" on their resume, whether it's from a prior job or just to state that they understand how to use Google products like Google Ads.
Instead, for companies and job positions, you may enter "Google" in the field directly, even with the "current position only" check box selected. You'll get a focused search that returns individuals who currently have Google in their current role.
You may use LinkedIn's advanced search feature by clicking the link next to the search bar on the header of its website.
You may also discover many of the advanced search tools by clicking "Refine Search" on any LinkedIn search results page.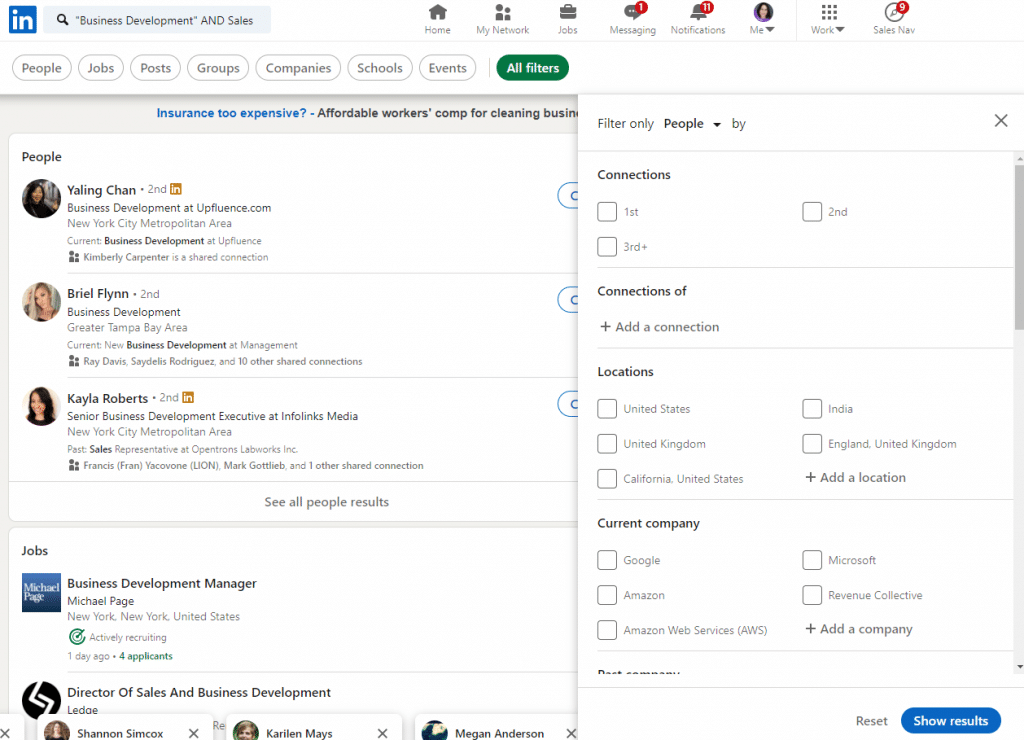 Take advantage of the sorting functions
By default, LinkedIn ranks your search results based on their relevance to keywords.
In most situations, this is the best choice because it will rank results based on your search's keyword matches. However, LinkedIn does have other options.
For example, LinkedIn may sort search results by the number of degrees from you, which is particularly useful if you're looking for individuals who are close to you in your network.
To employ the filters, simply click "Refine Search" on the search results page's header.
The following suggestions may seem complex, but they are actually simple to put into practice. To perform this, you must understand how Boolean searches work.
Boolean Search: Using the "OR"
People use different words to describe similar concepts on their Linkedin profiles. For example, an Agile Scrum Master might have "Agile" on their job titles. However, they might also have "Kanban" or "Jira".
LinkedIn search supports the concept of OR, which means that you can have LinkedIn return members who have any one of those terms in their profiles. (Please note, the "OR" has to be in capital letters)
So, in our search for an Agile Scrum Master, we might do a search for:
Agile OR Scrum OR Jira OR Kanban
This search will return Linkedin members in your network who have any one of those terms in their job titles or Linkedin profile.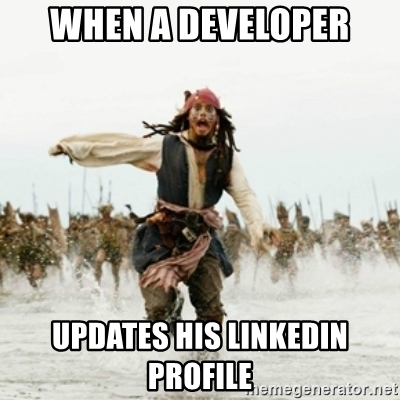 Boolean Search: Using the "AND"
If you appreciate OR, prepare to have a real party when you combine it with AND.
AND allows you to request that someone have both terms in their profile. So, if you're looking for someone who has both Scrum and Kanban in their profile, type:
Scrum AND Kanban
This becomes incredibly powerful when you combine it with OR. For example, if I am looking for a good Scrum Master, I might split each term into several possible words:
(Agile OR Scrum) AND (Master OR Jira OR Kanban)
Note how the OR conjunction is enclosed in parentheses to make sure that the AND condition applies correctly to any of the words in each group and bring the best search appearances.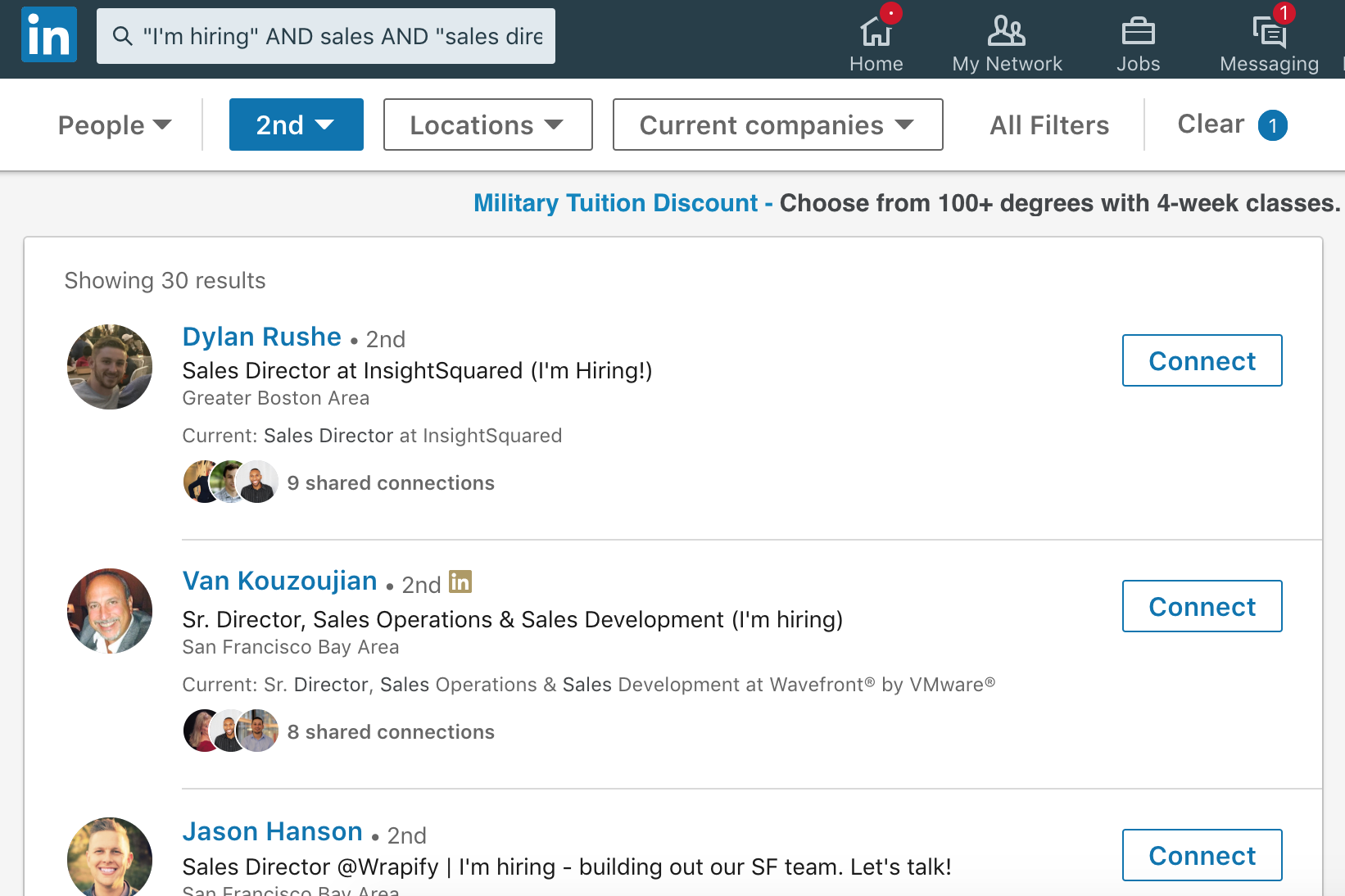 Boolean Search: Using the "NOT"
The last function in the Boolean search trio is "NOT", and it is a tricky but powerful operator.
It can't be used alone, but in conjunction with other terms, it will exclude people from your search who have that term in their profile.
So, for example, when I run the search above in my network, a lot of the engineers closest to me who fit that description are actually already working at my company (for example Google).
That's no good for a recruiting search. NOT is here to the rescue. With the following search:
(Agile OR Scrum) AND (Master OR Jira OR Kanban) AND NOT Google
You will get back every Linkedin member who matches the original query but without people who have Google on their profile.
Here are other examples of Boolean searches:
CEO NOT Founder
Microsoft (NOT self-employed)
(Sales OR Marketing) (NOT Human Resources)
Director AND "sales manager" AND "division manager" AND "executive vice president"
CFO OR "chief financial officer"
"Harvard University" OR Princeton
Use "Quotes" to Find Exact Phrases
Here is an example: "Senior Product Manager"
Quotation marks may be used to find terms with many words in a precise sequence. Whenever you write more than one word in a phrase, utilize them.
If I use the keyword box to look for "Senior Product Manager," LinkedIn displays results for all of those searches:
Senior, Product, Manager, Senior Product, Senior Manager, Product Manager
If I enclose the phrase in quotes, LinkedIn will only give me results containing "Senior Product Manager" in that sequence.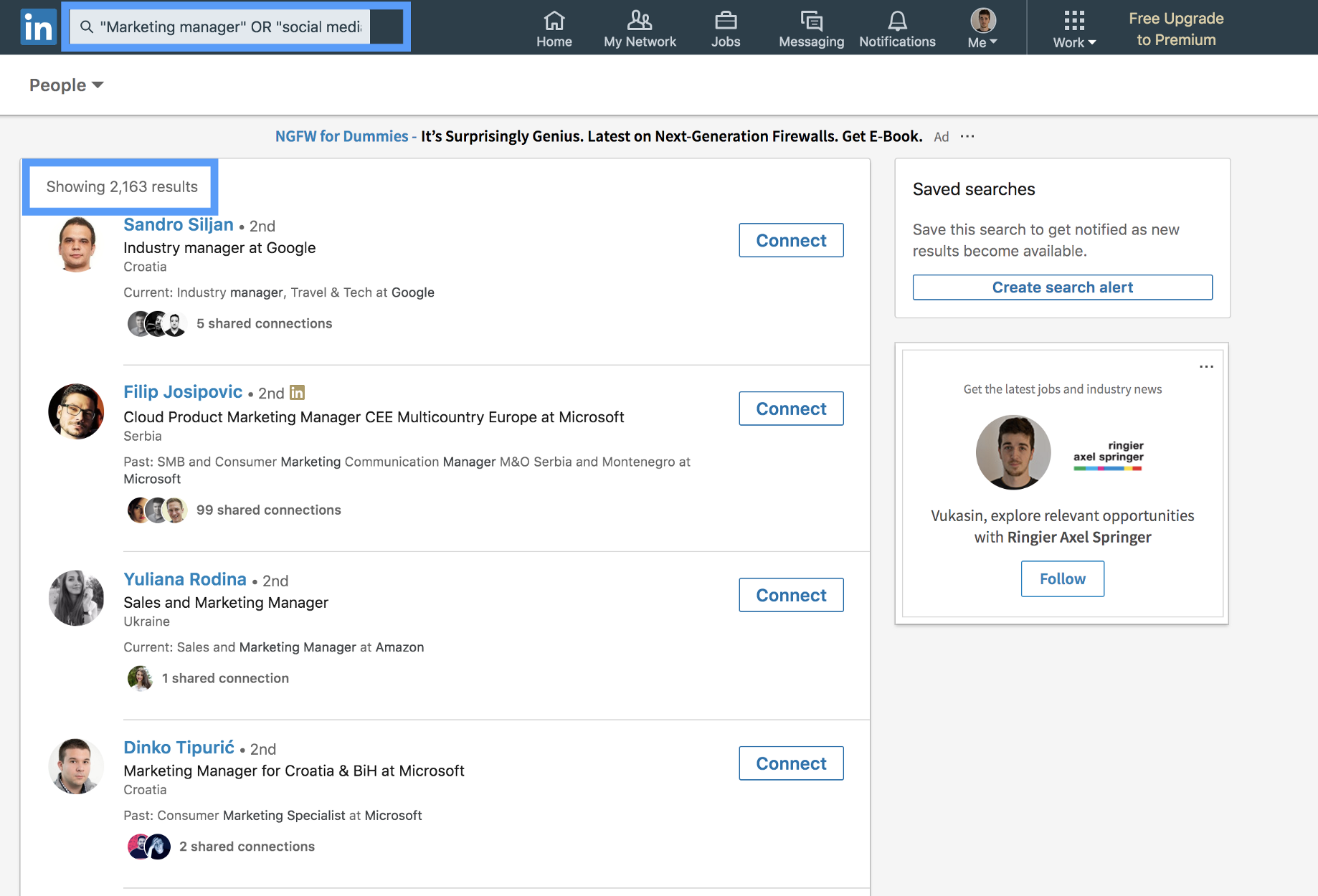 Adding the quotation marks reduced my search's result count by a factor of ten.
Take some time to experiment with these suggestions and see what kind of results you can get.
Employing these search techniques on LinkedIn will improve your search appearances and make your work easier. You will save a lot of time during your recruiter searches, sending a connection request, finding the right audience, or job search.
It might take some practice but bear in mind how quickly the above suggestions can boost the efficacy of your searches to a new level.
Next Steps: How to Build Your Authority on Linkedin
That's excellent! You've learned how to make the most of Linkedin's search feature as well as the significance of being efficient and assertive on your Linkedin searches.
The next step is to demonstrate that you're an industry expert to those who visit your Linkedin page. Or, that you are a reference for your network of contacts.
One of the most effective ways to build authority on Linkedin is to share content and get engagement.
If you publish relevant posts with a large number of likes and comments, it can get your visitor's attention.
The best way to automate and consistently have more engaging posts is to use a tool like Linkboost.
With Linkboost you can generate qualified engagement and increase up to 10x the usual reach of your publications on Linkedin.
Still not familiar with Linkboost?
Watch this introductory video to learn your first steps!
Ready to get started? Click here and take the test!