What are the Best times to post on LinkedIn in 2022?
Today, social media platforms are the most crucial weapons in a marketer's toolkit. The fact that everyone uses social media ensures that the audience may always be found on one of these platforms.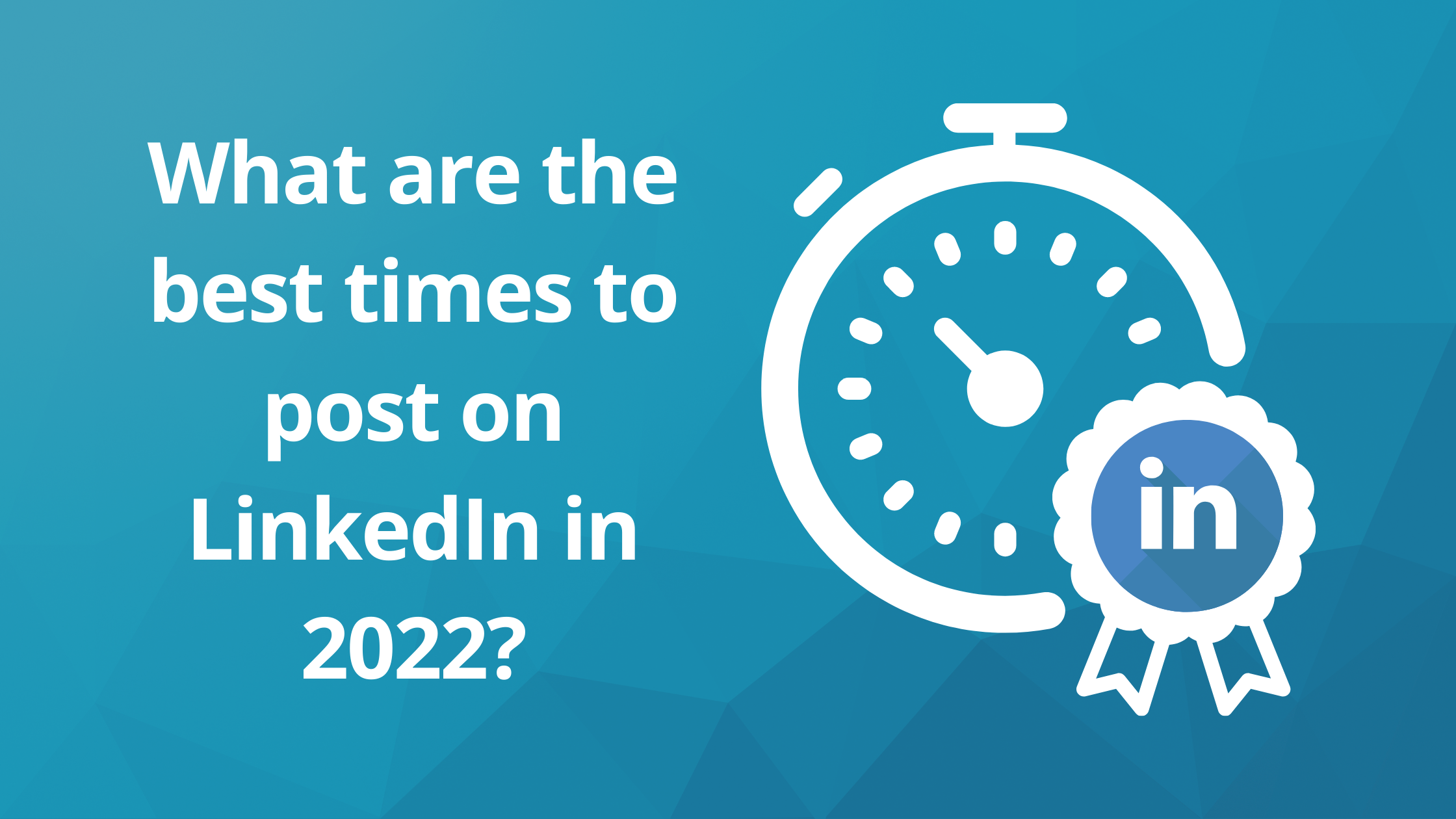 Today, social media platforms are the most crucial weapons in a marketer's toolkit.
The fact that everyone uses social media ensures that the audience may always be found on one of these platforms.
Companies may use Facebook, Twitter, Instagram, and LinkedIn to develop a continual stream of leads.
If you are selling a B2B product or you have company pages, you must develop a Linkedin marketing strategy.
LinkedIn is ideal for organizations that need high-quality leads because its large user base consists of professionals, decision-makers, and executives.
Social media marketing, when used correctly, may help you increase revenue, enhance your personal brand, and attract new customers.
The challenge is to stand out from the crowd.
With just how crucial social media marketing may be, you can expect all of your competitors to use the same strategies as well.
Even if you provide high-quality content, it may be lost in the rush of new postings from various businesses.
Because of the way that online algorithms are changing, your post will not get attention simply because it is new.
Instead, social media platforms are leaning toward relevance-based curation, which emphasizes high-quality content with lots of engagement.
To have a good chance of getting to the top of your target audience's feed, you must ensure that your message is sent at the optimum intervals.
So, what's the solution?
Finding out when is the best time to post on LinkedIn can help you get the most engagement.
It seems obvious, but it's critical to work on your Linkedin posting schedule and publish while your audience is online. This way you have a better chance to stimulate discussion and get greater attention.
However, finding the best times to post on LinkedIn might be a difficult task.
Don't worry! We've compiled a list of data-backed facts and suggestions to assist you in your quest.
What are the best times to post on LinkedIn?
Best times to post on Linkedin in 2022
Based on all the data collected by numerous social media agencies, we may state with confidence that you should consider using LinkedIn for your company during:
Best times to post on Linkedin:
Business Hours 9 AM - 6 PM: People use LinkedIn throughout their workday, especially in the first business hours, to look for new research, opinions, and inspiration before diving into their office job.
Commute hours 7 AM - 9 AM, 6 PM - 8 PM: That isn't very surprising. People check their LinkedIn feed when commuting to work in the early morning or returning home.
Tuesdays, Wednesdays, and Thursdays are the best days to post content on Linkedin: We'll talk about the ideal days to send your message below in our "No Monday, No Friday" discussion.
Most clicks and shares: Tuesdays, 11 AM-12 PM: The noon hour (lunch break) is ideal for social media because people are both resting and checking feeds, and it's a good opportunity to show off your stuff.
Average day, peak time of usage: 12 PM; 5-6 PM.
The worst times to post on LinkedIn in 2022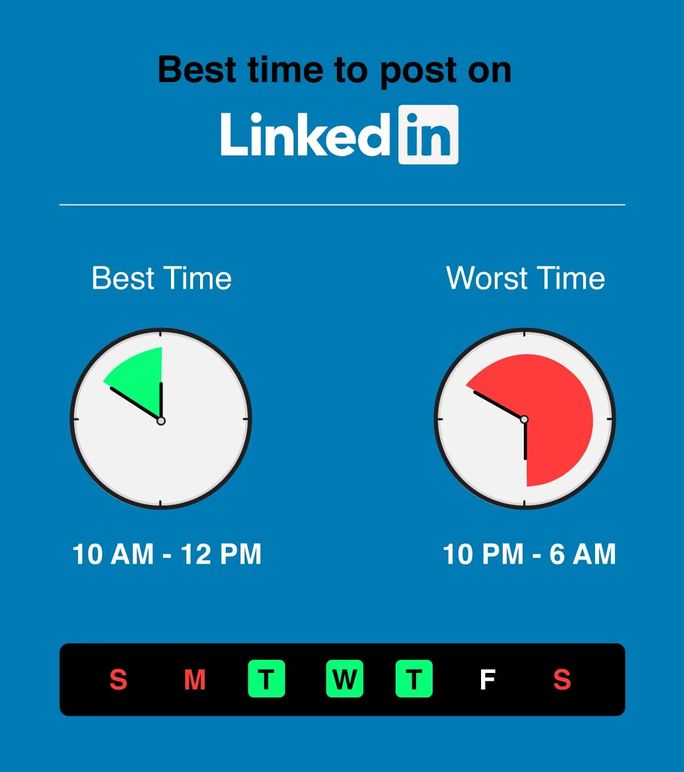 The worst time for LinkedIn: Sleeping hours 10 PM-6 AM: immediately before Monday and after Friday night.
Weekends are the worst days to publish on LinkedIn. The majority of your audience will be offline, socializing in person or with their families. As a result, it's critical to schedule your postings for weekdays most often.
On Monday, engagement was significantly lower than on other weekdays. It's only natural that because catch-up and weekly-plan meetings take place on Monday, people would be unwilling to look at their feeds then.
Outside of working hours, posting on Linkedin is not advised. After work, most individuals move from professional social media sites to personal ones.
There is no perfect solution for your target audience
It's critical to create appealing and informative material that is relevant to your target audience's needs. However, if no one sees it in the first place, you won't receive the engagement you desire.
You want to maximize your reach and one of the biggest variables in determining the posting times.
We do have some basic guidelines. However, there is no one-size-fits-all solution.
It will take some (a lot) trial and error to adjust your strategy.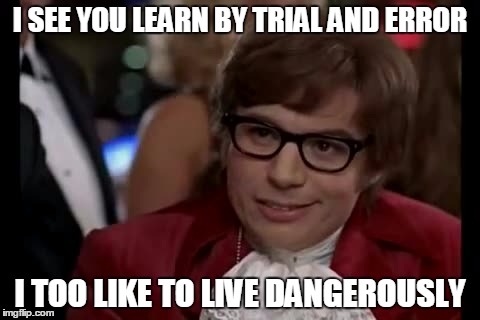 When you're just getting started, it's important to experiment with various times for content to figure out what works best.
Create several brief but interesting Linkedin content such as text posts or pictures and then publish them at various times to make it seem like your followers are active.
You may also use this time to figure out which types of postings makes sense to your audience.
You may make adjustments about the optimum time to publish based on your specific audience and demographic.
Finding the best times to post on LinkedIn, where almost everyone is a working professional, may be more difficult.
It's reasonable to assume that they won't have time to check their social media feeds during business hours.
Even so, professionals check their social platforms at certain times throughout the day, particularly during lunch hours or near the end of their shift.
If you want to contact a certain group of investment professionals, such as brokers and consultants, you may modify the posting times.
The stock market hours can help you decide when to publish your content (for example, send a new post about the day's news, just after the closing bell).
You must also consider your time zone.
If you want to establish your brand on LinkedIn, it´s always good to learn more about your target audience to determine the best time to post.
Best weekdays to your posting schedule: No Mondays and No Fridays?
It shouldn't come as a surprise that the finest posting times on LinkedIn are Tuesday through Thursday, given that networking differs from more general social media.
Monday is a popular day to set up your week offline and/or recuperate from work-related or business travel over the weekend.
On a Monday, most people are very occupied, so attempting to establish a new connection, get a response, or have someone see a piece of material you've produced may not be the greatest moment.
On Fridays, entrepreneurs might limit their social media usage to prepare for family activities or the following business trip (e.g., sales mission, seminar, conference, exhibits).
This is also a less-than-ideal moment to start up a conversation with someone. Add in a weekend and Monday madness, and you could easily get lost in the shuffle.
This is not to say that you should never post during these times.
It simply implies that you should avoid posting your best material at those periods.
The mobile trend and how it affects the best times to post on social media platforms in 2022
Through our research, we discovered that more than 40% of Linkedin users access the platform through mobile devices.
This is advantageous when it comes to scheduling because it opens more room for a specific audience approach.
If you discover that individuals are more engaged on the mobile app, instead of focusing on very rigid and particular week intervals, consider publishing content at different times.
If you're writing about corporate travel and hospitality, weekends might be a good shot.
With the growth of mobile usage, more consumers will use LinkedIn at night and on the weekends.
All you have to do now is discover your target audience and figure out how (and when) to contact them.
Why is LinkedIn's best posting time different from other social media platforms?
Although other social platforms are more open to publishing content at random intervals, LinkedIn is a bit different.
The emphasis of Linkedin is to assist you professionally while also assisting others. This is why the Linkedin dynamic operates around the work hours schedule.
The work-life balance, however, is more fluid than ever, which may have an impact on how people use Linkedin.
Once again, knowing your target audience is the greatest way to optimize this.
Wrapping it up
With LinkedIn's expanding capabilities, it's critical to share your material when your followers are most engaged with your profile.
There's a lot of debate about when is the best moment and day to share your material. You may simply give it a try and see how it goes.
Don't be limited, though, to these basic principles. You may always customize your approach to meet the needs and preferences of your target audience.
Also, don't forget that choosing the best times to post is just one aspect of the equation.
Consider it more as an opportunity to exhibit the high-quality content you've produced.
Finally, it all comes down to one thing: producing high-quality content that engages your target audience.
Before you go
We realize that even with excellent material and planned postings, you may not be successful.
Sometimes, it can be a little hard to attract connections and other users to engage with your content!
For that reason, we created Linkboost!
Linkboost is an automation tool that helps you reach a LinkedIn audience 10 times bigger than normal for your content and posts. With automated boosting, you can get a huge burst of engagement on Linkedin in a short space of time.
Now you know how to start getting huge engagement with your posts. To do this, simply:
1. Install the Linkboost chrome extension
2. Join pods according to your niche, or create your pod
3. Start adding your LinkedIn posts to get likes and comments from other users
If you're ready to start getting a huge engagement on your LinkedIn profile, then download the Linkboost extension and get your free account. On our free plan, you will be able to boost 3 posts/month, no credit card asked.