10 Tips to Optimize Your Linkedin Profile: SEO and Visibility Strategies
You've probably heard the old adage "you only have one chance to make a first impression." Well, that is absolutely true when it comes to your LinkedIn profile.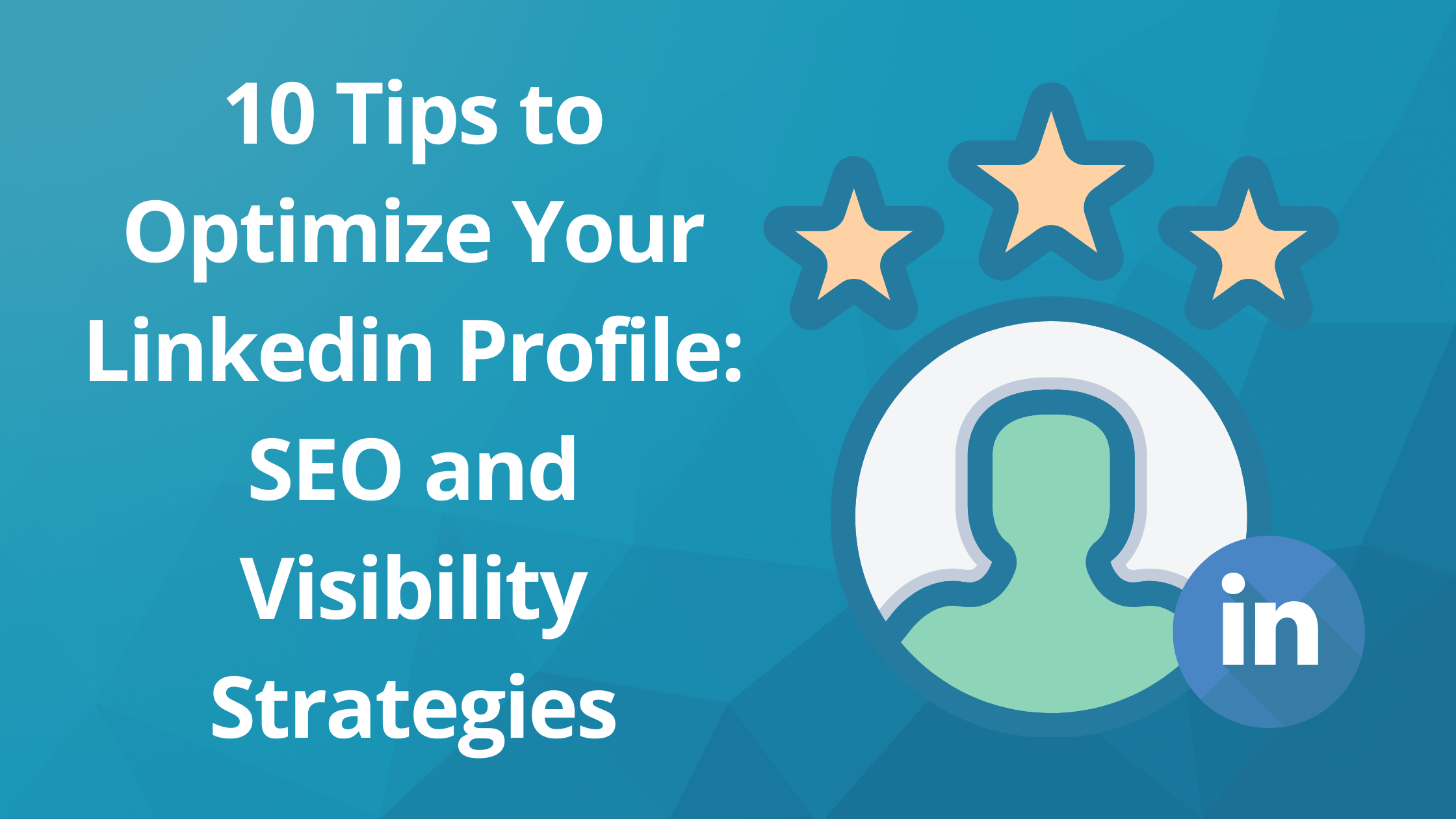 You've probably heard the old adage "you only have one chance to make a first impression." Well, that is absolutely true when it comes to your LinkedIn profile.
It can take months or even years for you to build up followers and connections on the network, but if your profile isn't optimized correctly from the start then you'll never get those people in front of your content.
Why You Should Optimize Your LinkedIn Profile
LinkedIn is a search engine, just like Google.
In fact, LinkedIn has over 300 million users and gets over two billion searches per day. That's a lot of potential traffic that you could be getting for your business if your profile is optimized correctly.
Not only that, but LinkedIn also offers some great features for increasing your SEO visibility.
You can add keywords to your headline, make use of the "summary" section to talk about your skills and experience and even add links back to your website or blog.
Here are some main benefits of optimizing your LinkedIn profile for SEO:
You'll get more search results, therefore you'll be more visible to potential consumers/clients.
It's beneficial to have your personal brand recognized.
Because your profile is well-designed and relevant, you will be perceived as an expert.
You will get more clients
Now that you know why you should optimize your profile, let's take a look at how to do it.
10 tips to SEO and Linkedin profile optimization
1. The ideal LinkedIn profile picture
Your profile picture is one of the first things that people will see on your profile, so you want to make sure it's a good one. It should be professional and high-quality and show off your best features.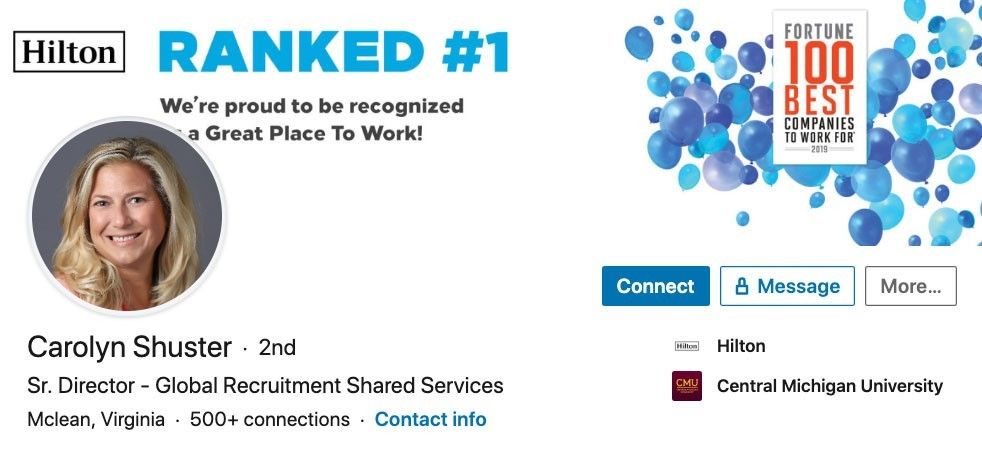 Make sure to use a headshot instead of a full-body shot, and avoid using filters or effects on your photo.
If you don't have a professional headshot, then try to get one taken by a friend or family member that can take high-quality photos. The more natural and well-lit the picture is, the better it will look on your profile page.
And make sure to use an appropriate photo size – no bigger than 400 by 400 pixels. If your photo is too large, it will stretch and look distorted on your profile photo.
You can also tweak how the photo appears by clicking on "edit" under your picture, then select the little pencil icon at the top right of that box to edit some more options. Be sure to save any changes you make!
Pro Tip: If you want to make sure that other people like how your profile looks too, then try importing it into Photofeeler and get some feedback from other LinkedIn users.
2. Identify the SEO keywords you want to be visible for
One of the main reasons you want to optimize your LinkedIn profile for search engines is so that it'll show up when people search certain terms.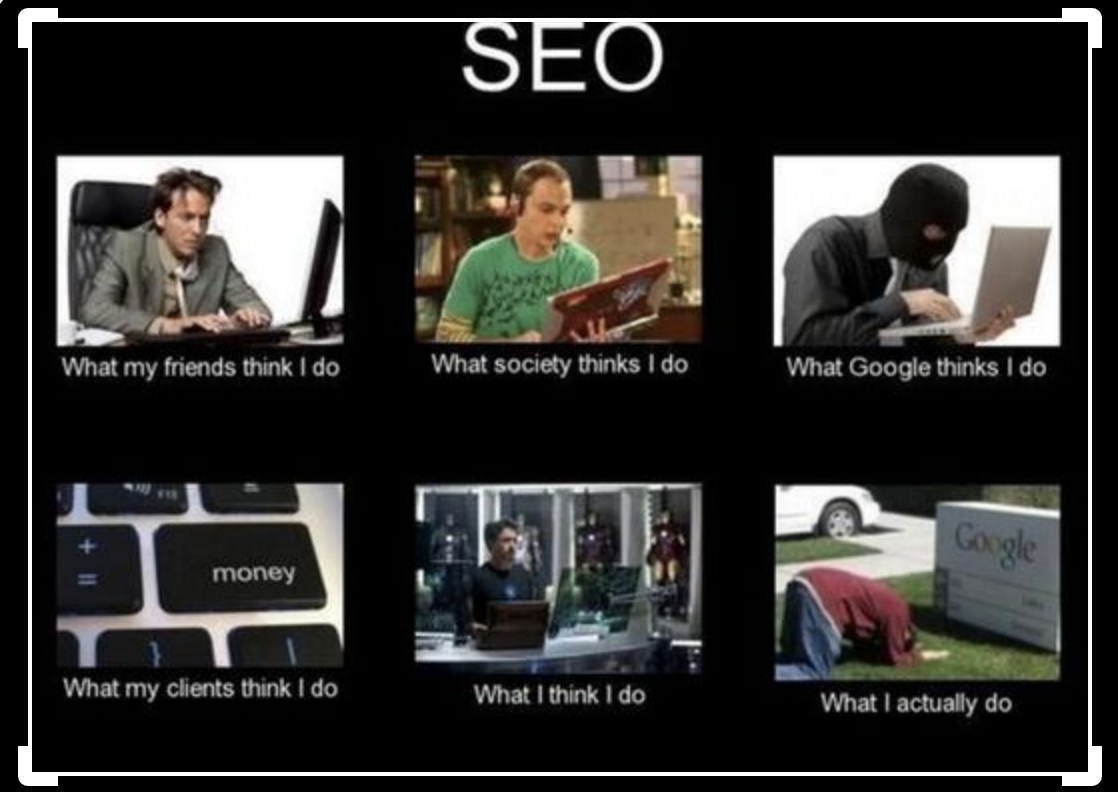 So, what are some relevant keywords or phrases that potential customers might type in when looking for someone like you?
First off make sure not to stuff any unnecessary words into this section; keep it short and sweet by listing out keywords that are relevant to your business or industry.
Some ideas for keywords to consider: your job title, the services you offer, your location, specific skills or abilities, or any other terms that are relevant to your business.
You can also use Google's AdWords Keyword Tool to get some more ideas for keywords. Just type in a keyword related to your business, and it'll generate a list of even more keywords that people might search for.
You'll want to have a few different keywords for each section on LinkedIn – headline, summary, specialties, and experience.
Pro Tip: Use a tool like Google AdWords Keyword Planner to find new keywords that are relevant to your business.
3. Enhance Your Linkedin Profile Headline
Your LinkedIn headline is one of the most important things to optimize for SEO, as it's one of the first things people will see when looking at your profile.
You want to make sure that your headline includes some of the most important keywords that potential customers might search for, so they'll know right away that you're someone they should be checking out!
The first part of your LinkedIn headline should be a few words that describe you and what you do. For example, if you're the owner of a marketing agency then try something like "SEO Agency Owner" or "Marketing Consultant."
This will entice people to click on your profile and learn more about what services you offer. Try adding the most important keyword(s) at the beginning so they show up in searches. You can also include them in job titles or descriptions beneath your photo too.
The second part of your headline is where you can add in any other keywords that are relevant to your business or industry but aren't quite as important as the original ones mentioned above. You could also use this section for a tagline if you want (a short sentence describing what services you offer).
As you can see, optimizing your LinkedIn headline is pretty simple, but definitely an important part of SEO strategy! Try testing out different variations and seeing which one gets the most clicks or views from potential customers in your industry.
4. Write a professional Linkedin summary profile
A LinkedIn profile summary is a great place to include some of those keywords from your headline again.
This will be the first thing potential customers see after clicking on your name, so you'll want to make sure it describes who you are and what you do accurately!
The best way to think about writing a LinkedIn profile summary is as an ad for yourself – just like any other marketing material that would entice people into learning more about working with you or buying one of your products/services.
You should aim for 100-150 words here (so roughly two short sentences). You can also use this space for including another tagline if desired too ("a trusted leader in digital marketing" could become "Marketing Expert").
Pro Tip: If you're struggling to find the right words for your summary, try taking a look at some of your customer testimonials. They will probably describe what makes you so great in just a few short sentences!
We already wrote a great guide on how to write a good Linkedin summary, you can check it out here.
5. Optimize your LinkedIn resume
On the second half of your LinkedIn profile (after Summary) you'll see a section called "Experience." This is where you can add in all your work experience (including volunteer projects, internships, etc).
This is another great place to include some keywords that are relevant to what potential customers will be searching for on Linkedin.
You should also try adding them into any other job titles or descriptions here too so they show up when people search things like "Marketing Director" or "Social Media Specialist." Again, don't overdo it though since this section shouldn't just read as an industry term list!
6. Fill out the skills section
The skills section on LinkedIn is a great way to show off your areas of expertise and make it easy for potential customers to see what you're good at.
You can list out anywhere from five to ten relevant skills, depending on how many you want to showcase.
Just like with the other sections of your profile, be sure to use keywords that accurately reflect what you do and who you are as an individual. If there's a specific skill that potential customers might search for on LinkedIn (like "SEO" or "marketing"), then make sure to include that here!
7. Have a Personal brand LinkedIn Header/Banner
A branded LinkedIn header/banner is a great way to make your profile stand out and look more professional.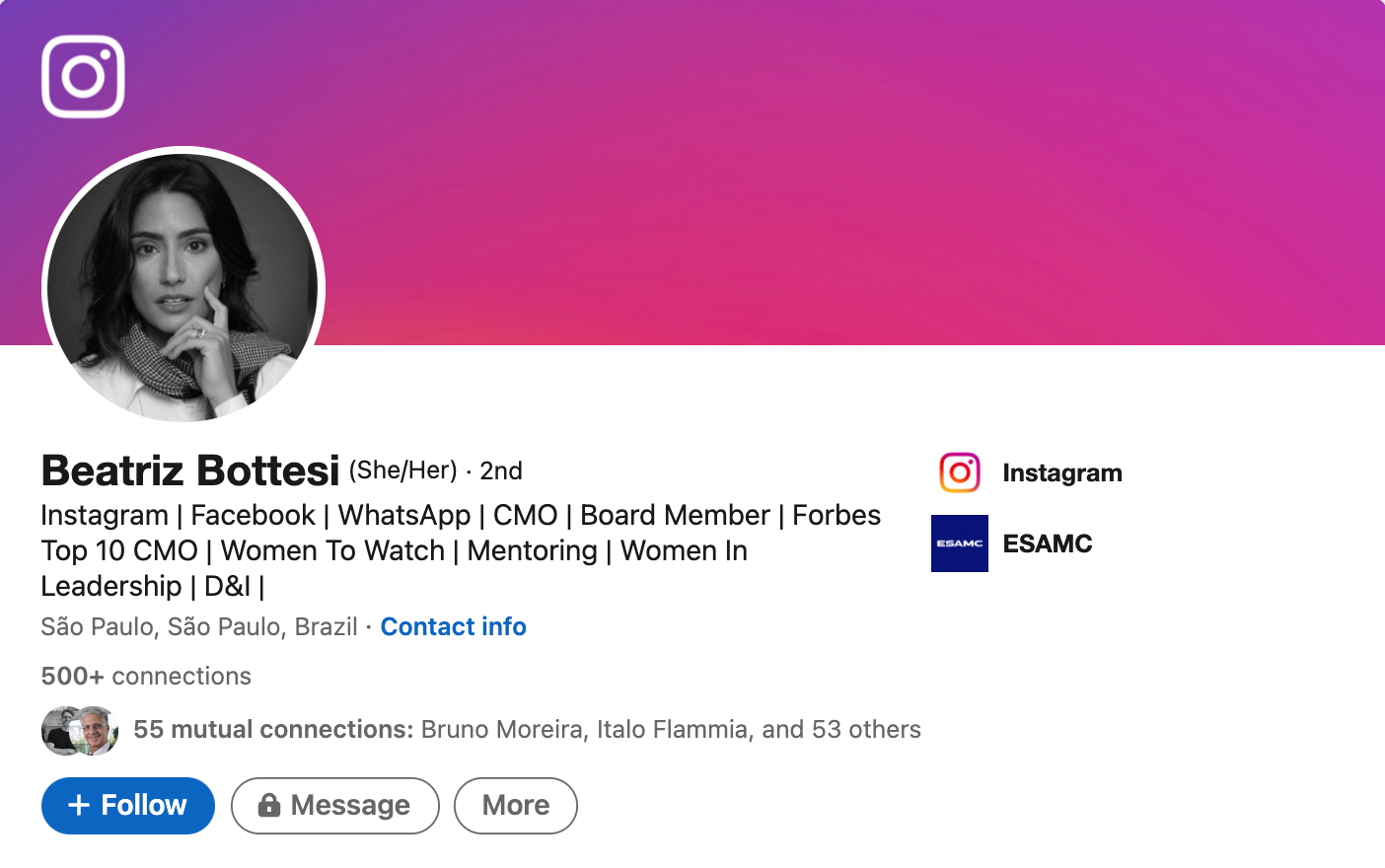 To create one, start by choosing an image (preferably 1140 x 220 pixels) for it to sit on top of.
Make sure the background color matches with your company colors too otherwise this will be distracting when people scroll through their newsfeed!
Pro Tip: If you don't have any images that are quite right, try using free stock photos or graphics instead – sites like Unsplash are full of them!
Once you've got something picked out, head over to Canva, another great tool to make your perfect Linkedin cover image.
We also wrote a great guide on how to make the perfect cover image, you can check it out here.
8. Use a custom Linkedin profile URL
If you want to make it even easier for people to find and connect with you on LinkedIn, set up a custom URL for your profile.
To do this, go to your account settings and enter the web address you'd like to use (it has to be between six and 25 characters).
This is a great opportunity to promote your company or personal website too – just make sure the link works!
Once you've set everything up, be sure to include your new custom URL everywhere: on business cards, in email signatures, etc. It'll make it super easy for potential customers or connections to find and connect with you online.
9. Post relevant content
One of the best ways to connect with and attract new connections on LinkedIn is by posting relevant content.
Not only will this help you build your network more naturally, but it'll also position you as an industry authority – which can dramatically increase your professional visibility!
Plus, if people like what they see, there's a good chance they might want to join the conversation (and potentially become part of your network).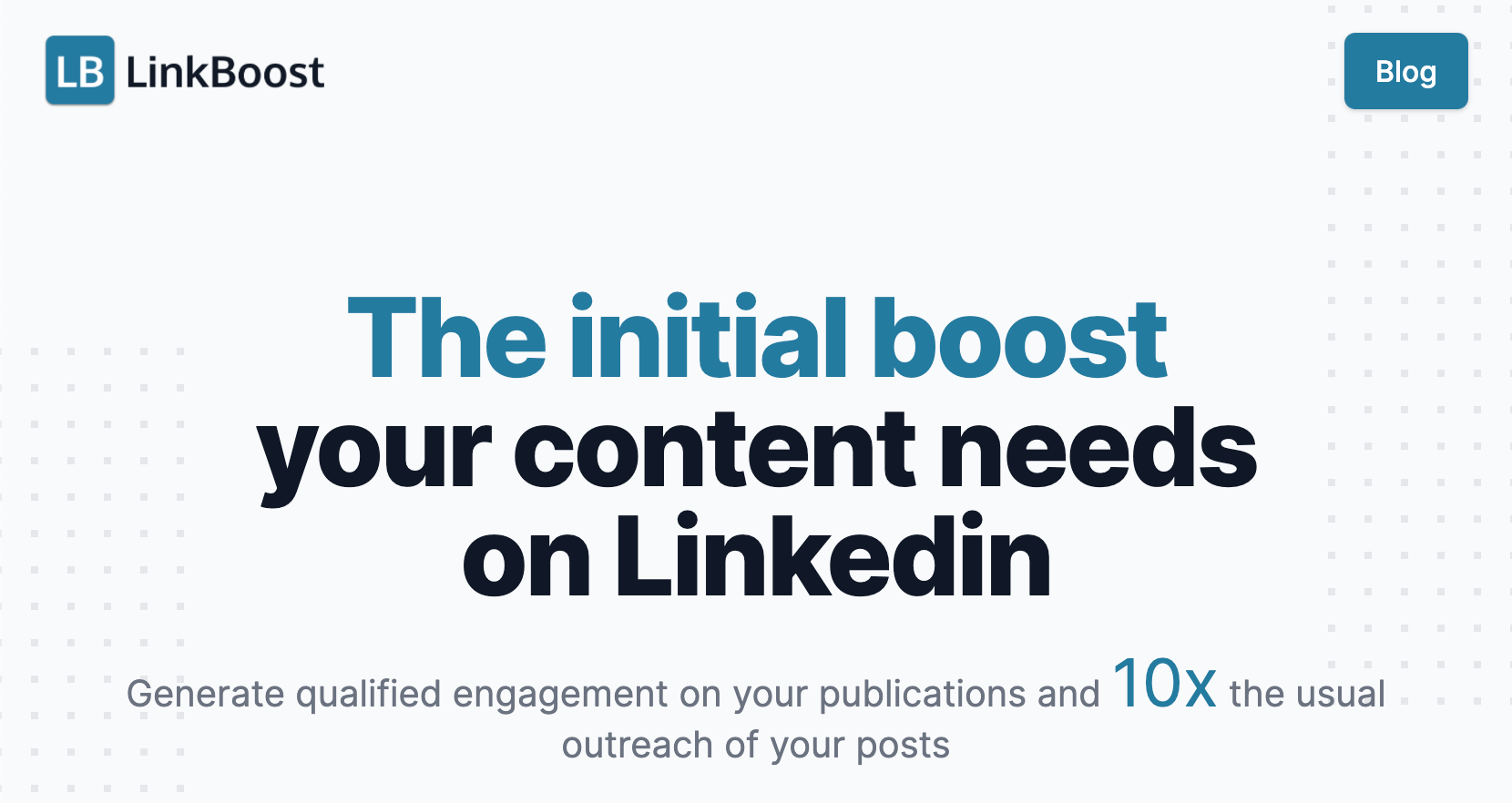 Also, you can use our tool Linkboost to generate qualified engagement on your publications and 10x the usual outreach of your posts!
10. Request recommendations from connections
Asking for recommendations from your connections on LinkedIn is a great way to increase your credibility and visibility.
After all, if someone has taken the time to write a positive review about you, it'll show up on your profile and be seen by potential customers or clients. Plus, it's a great way to build relationships with other professionals in your industry!
Bonus Tips
If you read until here, you deserve a special bonus tip! (Only read this if you want to be more visible)
Create your profile in another language
If you're looking to attract new business connections from around the globe, adding a foreign language version of your LinkedIn profile can be a great way to do it.
Not only will this make your profile more visible to people searching in other languages, but it will also show that you are open to doing business with people from other countries.
To create a foreign language version of your LinkedIn profile, go to settings and scroll down to the bottom. There you will see a box that says "Create Profile in Another Language."
Choose which language you want it to be translated into, hit save changes, then click on the new foreign-language link at the top of your page!
Use #Hashtags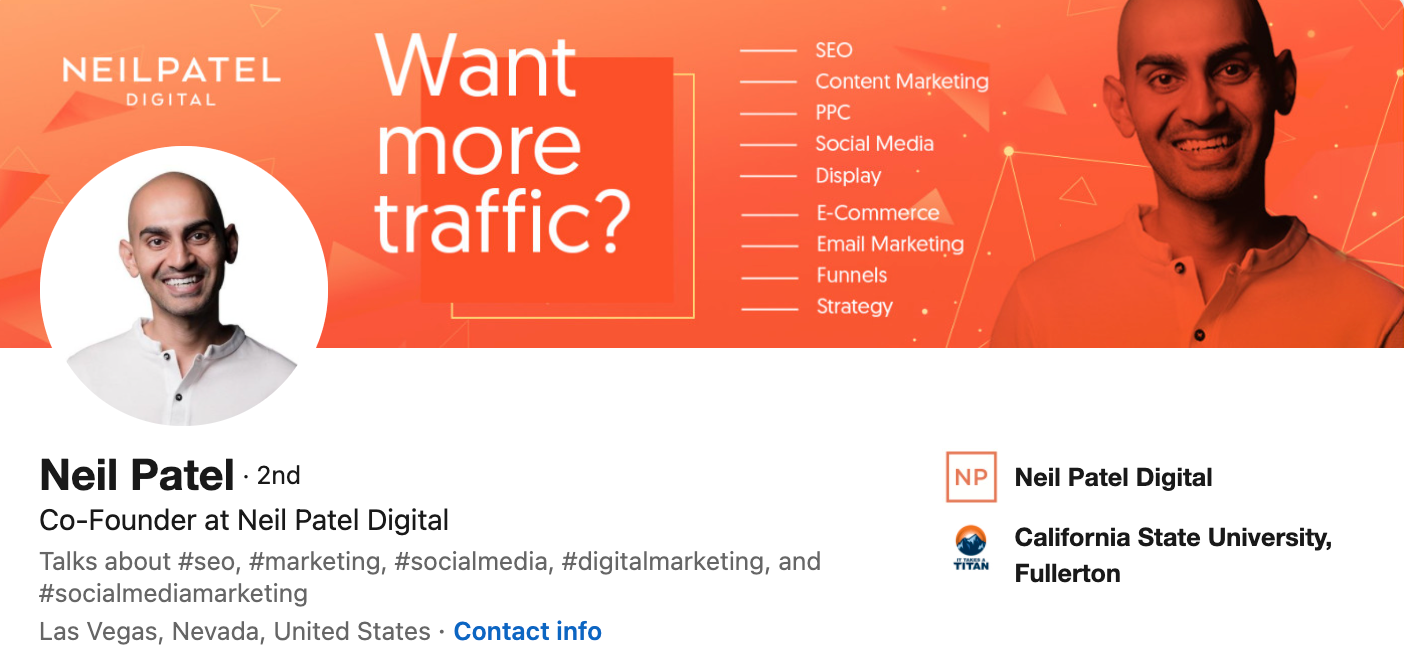 Hashtags on LinkedIn are a great way to get more views and engagements on your posts. You can start using relevant hashtags on your posts and you'll be able to reach a whole new audience!
FAQ
Does LinkedIn use SEO?
LinkedIn does use SEO, though it's not as complex as some other platforms. LinkedIn focuses on optimizing profile titles, descriptions, and keywords to make profiles more visible in search results.
How do I optimize my LinkedIn search?
If you want your profile to pop up when someone searches for a keyword related to your industry, make sure that the title and description of your LinkedIn page match those terms exactly.