Top 100 LinkedIn Hashtags 2021: How to use them
We've compiled the top 100 popular Linkedin hashtags for 2021 so that you can use them in your next Linkedin post and increase engagement!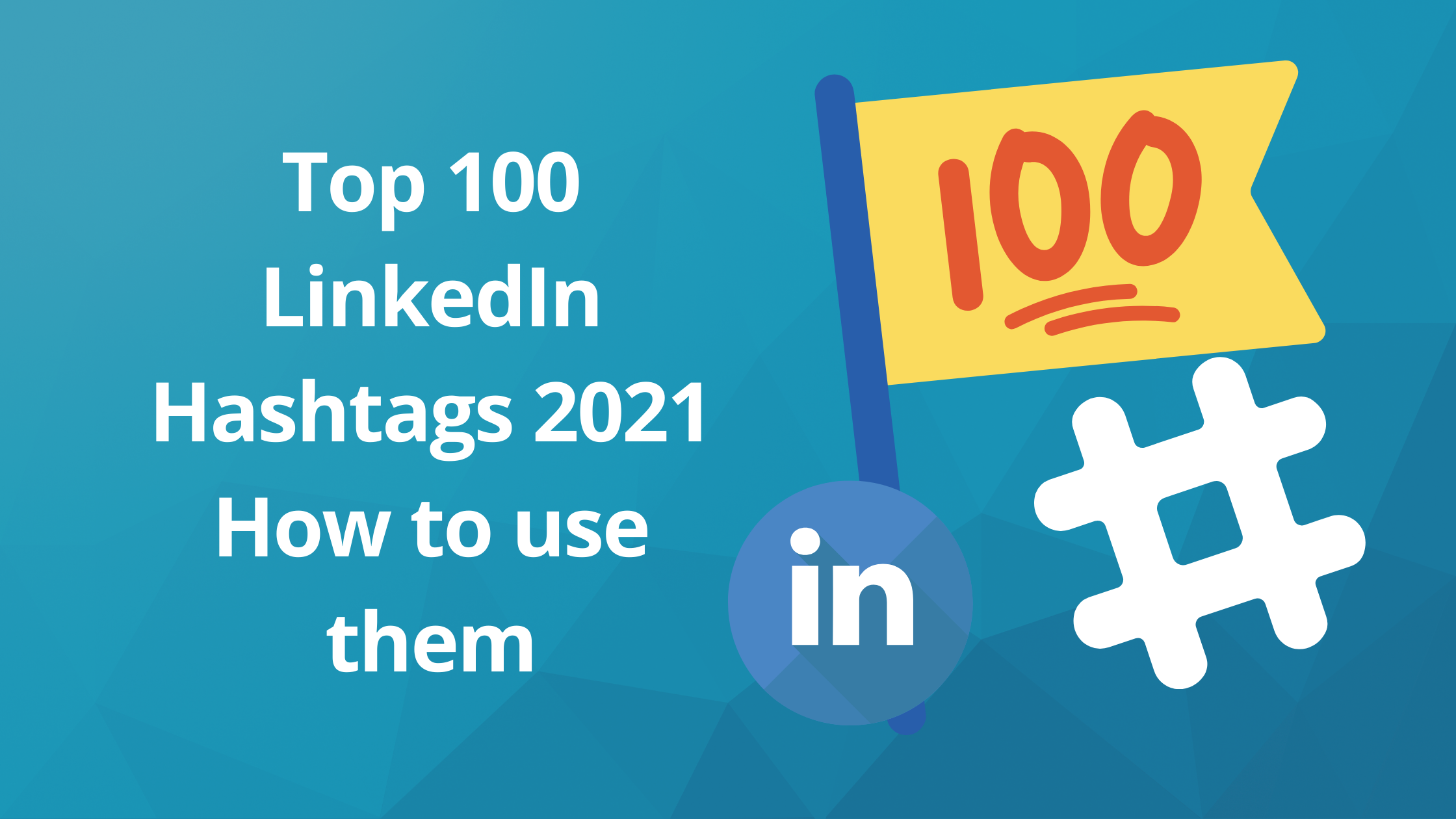 LinkedIn is a social networking site focused on business connections.
The platform has become an increasingly popular way to connect with your peers, find new opportunities, and share content.
One of the most unique features of LinkedIn is its hashtag feature which allows you to categorize messages by topic or interest.
These Linkedin hashtags are used in millions of posts every day!
We've compiled the top 100 popular Linkedin hashtags for 2021 so that you can use them in your next Linkedin post and increase engagement!
Top Linkedin Hashtags 2021 with followers count
#india — 68M
#innovation — 39M
#management — 36.2M
#humanresources — 33.4M
#digitalmarketing — 27.5M
#technology — 26.4M
#creativity — 25M
#future — 24.7M
#futurism — 23.7M
#entrepreneurship — 23M
#careers — 22.4M
#markets — 22M
#startups — 21.4M
#marketing — 20.3M
#socialmedia — 19.8M
#venturecapital — 19.4M
#leanstartups — 19.1M
#economy — 19M
#socialnetworking — 19M
#economics — 18.2M
#branding -18.1M
#advertisingandmarketing — 17.3M
#motivation — 15.5M
#personaldevelopment — 14.8M
#investing — 14.5M
#jobinterviews — 14.5M
#money — 14.2M
#bankingindustry — 14M
#sustainability — 13.3M
#alternativeenergy — 13M
#personalbranding — 10.5M
#hiringandpromotion — 10.1M
#healthcare — 9.7M
#education — 9.6M
#customerrelations — 9M
#productivity — 8.5M
#whatinspiresme — 8.1M
#bestadvice — 7.7M
#bigdata — 7M
#travel — 7M
#gettingthingsdone — 7M
#businessintelligence — 7M
#softwareengineering — 6.6M
#programing — 6.6M
#analytics — 6M
#softwaredesign — 6M
#datamining — 6M
#data — 6M
#socialentrepreneurs — 5.9M
#sales — 5.8M
#fundraising — 5.8M
#law — 5.5M
#lawandlegislation — 5.5M
#legalissues — 5.3M
#strategy — 5.1M
#projectmanagement — 5M
#culture — 4.7M
#userexperience — 4.7M
#fashion — 4.2M
#cloudcomputing — 4M
#mobileapplications — 4M
#consultants — 4M
#productmanagement — 3.6M
#business — 3.6M
#networking — 3.5M
#leadership — 2.8M
#artificialintelligence — 2.4M
#hiring — 2.1M
#health — 1.9M
#engineering — 1.8M
#mindfulness — 1.7M
#jobsearch — 1.5M
#jobseekers — 1.3M
#africa — 1.15M
#deeplearning — 855k
#hr — 810k
#smallbusiness — 800k
#workingathome — 800k
#recruiting — 785k
#inspiration — 760k
#job — 742k
#datascience — 725k
#contentmarketing — 640k
#research — 592,000
#success — 540k
#ai — 500k
#storytelling — 486k
#computerscience — 485k
#python — 450k
#entrepreneur — 510K
#fintech — 435k
#onlineadvertising — 400k
#selfhelp — 300k
#neuralnetworks — 296k
#partnerships — 260k
#jobopening — 340k
#cloud — 270k
#homeoffice — 146k
#openings — 190k
#automation — 147k
Trending LinkedIn Hashtags 2021
#covid19
#coronavirus
#marketing
#leadership
#realestate
#business
#hiring
#jobs
#digitalmarketing
#kudos
#innovation
#cybersecurity
#recruitment
#technology
#design
#ai
#healthcare
#corona
#construction
#health
#realtor
#staysafe
#covid
#socialmedia
#education
#workfromhome
#hr
#mentalhealth
#stayhome
#success
#recruiting
#homeoffice
#india
#branding
#coaching
#sustainability
#homesforsale
#architecture
#dubai
#jobsearch
#iwd2020
#travel
#sales
#wellness
#job
#interiordesign
#motivation
#training
#recrutement
#uae
#careers
#art
#finance
#realestateagent
#cloud
#property
#engineering
#management
#security
#confinement
#insurance
#investing
#fashion
#news
#graphicdesign
#logistics
#blockchain
#fitness
#marketingdigital
#smallbusiness
#entrepreneur
#linkedin
#lockdown
#aviation
#energy
#webinar
#love
#internationalwomensday
#hospitality
#eachforequal
#earthday
#startup
#retail
#fintech
#music
#forsale
#photography
#technology
#automotive
Why you should use hashtags on Linkedin?
Linkedin hashtags are especially important because they help you to be found in search, also popular hashtags can be a great way to increase your engagement and reach on LinkedIn.
Posts with relevant Linkedin hashtag receive an average of 12.86% more views than those without them, so it's definitely worth the effort!
If you want to find people who are talking about certain topics or companies that aren't necessarily in your network, adding a hashtag is a great way to do that.
Linkedin hashtags are also an easy and effective way to network with people who have similar interests or goals, so they're worth trying out even if you don't think you'll need them for your job hunt!
How To Use Hashtags On LinkedIn
To help you get the most out of Linkedin hashtags, here we answer the most frequently asked questions:
How Do I Choose The Right Hashtags?
To get the most out of your hashtags, it's important to do some research and plan ahead.
If you already have an idea about what content you want to post or which companies you're looking for a job at, then start with that list of keywords!
Use the LinkedIn search bar and find people who are talking about these things.
You can also use relevant hashtags from Twitter or Instagram if there is no appropriate hashtag on LI yet. Or just see what other Linkedin users post in their updates - they often share great ideas too. Remember: relevance is key!
Don't be afraid to search for keywords that are relevant, but maybe don't fit your post perfectly! Hashtags can always give you some fresh ideas and new angles on what people want to talk about in connection with your industry or topic of expertise.
So when the occasion arises try out different hashtags until you find ones that work best for your content and audience - it's all part of planning ahead!
How Many Hashtags Should I Add?
It all comes down to your personal preferences. Generally, you should avoid using more than three hashtags in any one post because anything beyond that starts looking tacky and spammy.
In my opinion, 1-3 hashtags are the sweet spot and don't appear spammy. More than that is usually a waste of time.
Here is what Linkedin says:
Recommended is using no more than 3 hashtags
Don't use spaces, emojis, or special symbols
Use both, niche and broad hashtags
How Many Followers Should My Hashtags Have?
A rule of thumb is to use a mix of hashtags with high (most popular LinkedIn hashtags) and low reach.
There's no need to add 50 niche hashtags if you have 20 followers, for example! Instead, pick the ones that are right for your audience. And choose some broad keywords too because they can help people find what you post even when there aren't many hashtags about it.
LinkedIn recommends you go for niche and broad hashtags for increased exposure.
A concrete plan might be as simple as this:
Here is a good mix that goes with 1 - 2 broad hashtags and one that is very niche.
This way you will be visible to a large audience for a small amount of time and for a longer time for a smaller, more specific audience. Remember it's always about relevance.
How Do I Find Out How Many Followers A Hashtag Has?
It's very simple:
Hover over the hashtag and click on it. It will open a new window with detailed information about this particular hashtag, including how many people posted using that tag, as well as its reach (number of followers or group members).
You can also search for any hashtags you want to use by putting them into the Linkedin search bar at the top right corner of your screen and pressing enter.
For more general queries go for broad tags; type in niche hashtags if you're looking to target specific individuals or companies who may be interested in what you post.
A good example is #careers: there are thousands of users posting every day but they all have some connection to careers so it's very relevant!
Should I make a personal hashtag on Linkedin?
Yes, you can make a branded hashtag for your personal use.
Personal hashtags are when you identify a hashtag you want people to follow, so they can easily see the content you have categorized under this hashtag.
On LinkedIn, individuals use frequently used personal hashtags to boost their personal brands. This hashtag might be a word or a name that is kept in the thoughts of their audience.
It is essential to choose a short, punchy, and memorable hashtag for your Linkedin account.
It's preferable to use a hashtag that has not been used previously so that only your material shows for it.
The absolute key with personal hashtags is that you find a hashtag you can 'own' and that people FOLLOW your tag. If someone follows your hashtag they will receive a notification when you post content.
To sum up
If you didn't have time to read the entire post, here is the best Linkedin hashtags strategy to use right now on LinkedIn:
Use 3 hashtags
Use LinkedIn search to identify hashtag frequency
Add hashtags at the end of content
Go big & broad with 2 hashtags and use 1 niche hashtag
Use keywords to signpost your content themes
Conclusion
Linkedin hashtags are a powerful way to connect with people and build your Linkedin presence.
Now that you know what the best LinkedIn Hashtags are in 2021, take action and try out some of these top 100 hashtags!
Before you go
You can attract lots of new connections and increase job opportunities if you post regularly on Linkedin. We advise you to share your knowledge and value with your connections. Sometimes, it can be a little hard to attract connections and other users to engage with your content!
For that reason, we created Linkboost!
Linkboost is an automation tool that helps you reach a LinkedIn audience 10 times bigger than normal for your content and posts. With automated boosting, you can get a huge burst of engagement on Linkedin in a short space of time.
Now you know how to start getting huge engagement with your posts. To do this, simply:
1. Install the Linkboost chrome extension
2. Join pods according to your niche, or create your pod
3. Start adding your LinkedIn posts to get likes and comments from other users
If you're ready to start getting a huge engagement on your LinkedIn profile, then download the Linkboost extension and get your free account. On our free plan, you will be able to boost 3 posts/month, no credit card asked.